Profit From Our Experience.
Not Sure What It All Means?
We help you analyze the wealth of information created by your website, business, and marketing efforts so that you can make data-driven decisions.
Let us make your website traffic soar. 
There's a reason Google Analytics is the most widely used analytics package on the web: it offers an incredible range of features for marketers, developers, and product managers.
Google Analytics is much more than just a free website traffic tracker: it's a full suite of tools to help you track and improve your online marketing efforts.
All the tools in Google Analytics are built around answering questions about visitor behavior. This means that you start by articulating what you want to know about your visitors and then choose the right tool for that information.
The most common use of Google Analytics is to track how many people visit your site, where they're coming from, and what they're doing while they're there. You can also track individual marketing campaigns, e-commerce sales, and even offline events like phone calls or store visits.
In a Rush? Call Us Directly at 945-218-2218
Analytics Custom Tailored To Your Business Needs
Having a strong online presence is essential for the success of any small business. To truly compete in today's market, you need to have a reliable, easy-to-navigate website that your customers can access from anywhere.
You know your business inside and out. You know every product and service you offer, and you could talk about them for hours. But how do you know if your website is capturing that excitement in a way that engages visitors and converts them into customers?
Google Analytics can be a daunting tool to navigate, particularly if you don't have the time or knowledge to gain maximum insight from your website data.
That's where we come in. Our company provides Google Analytics services for your business to give you the insights you need to make data-driven decisions about your website. Our team of experts will help you understand how visitors find and use your site so that you can make it better.
We've helped our clients improve their search rankings, get more leads, and increase sales as a result of our Google Analytics services. Our recommendations are based on best practices from top websites worldwide — we're talking about the most advanced companies like Amazon, Facebook, and Google. Your site can have those same results.
It's time to make your website work smarter with Google Analytics (GA). At AdJet Marketing, we don't just offer GA services, and we use them ourselves.
When you activate Google Analytics on your website, you're opening up a world of data that will allow you to understand how people interact with your site and make informed decisions about optimizing it for better user engagement and ROI.
If you already have a GA account but aren't sure how to access this data or what it means for your business, our expert team can help. We can review your existing analytics set-up and report on what is (and isn't) working. This can help identify opportunities to improve performance, strengthen the user experience and grow conversion and revenue.
On the other hand, if you don't have Google Analytics set up on your site yet, there's no better time than now.
Focus On What Counts With Custom Google Analytics Reporting
Our Google Analytics services are designed to enhance your return on investment. We can help you better understand your visitors and their behavior on your site. We can help you learn which content is most popular with your visitors, how they found you, where they live and what devices they use to access your site. The list goes on and on.
You can use this information to make data-driven decisions about the products and services you offer, how you market them, and how you interact with your customers.
We're in the business of helping you increase your sales and grow your business. This is why we give you access to Google Analytics so that you can track conversion rates, monitor metrics like sessions and bounce rates, and better understand where your marketing ROI is going.
With our analysis, you get the insights you need to make smarter decisions, so you can increase conversions and grow your business.
Analytics is an essential component of any website. Without analytics, you're just guessing what users do on your site. It's like driving your car while wearing a blindfold.
It helps you analyze your audience and measure your advertising ROI, as well as track your flash, video, and social networking sites and applications.
It measures your PPC ads, email marketing campaigns, and other marketing efforts.
Using analytics, we try to understand how you interact with other websites, what devices they use to access content on your site, how they get there, where they spend time on the page, and what they do on the page if they convert or not, etc.
We help you identify trends in how people find your site, how they explore it, and ultimately how many of them convert into customers.
Our team of experts works to analyze key metrics that will allow you to monitor performance and make data-driven decisions to improve your website's effectiveness.
With knowledge of what they want, you can create content that will attract the right customers to your website.
You can find out which search engines and keywords bring you the most traffic, and use this information to optimize your SEO strategy.
Use analytics data to test different versions of your landing pages and determine which design works best.
You'll learn which social media sites are best for attracting new customers – make the ones that work hardest for you a priority.
AdJet Makes It Make Sense
The experts at AdJect Marketing can get you started with Google Analytics or provide a full-service solution.
Our team of dedicated account managers, analysts, and developers has the skills to solve any analytics challenge.
Some of the ways we can help you to improve your Google Analytics are: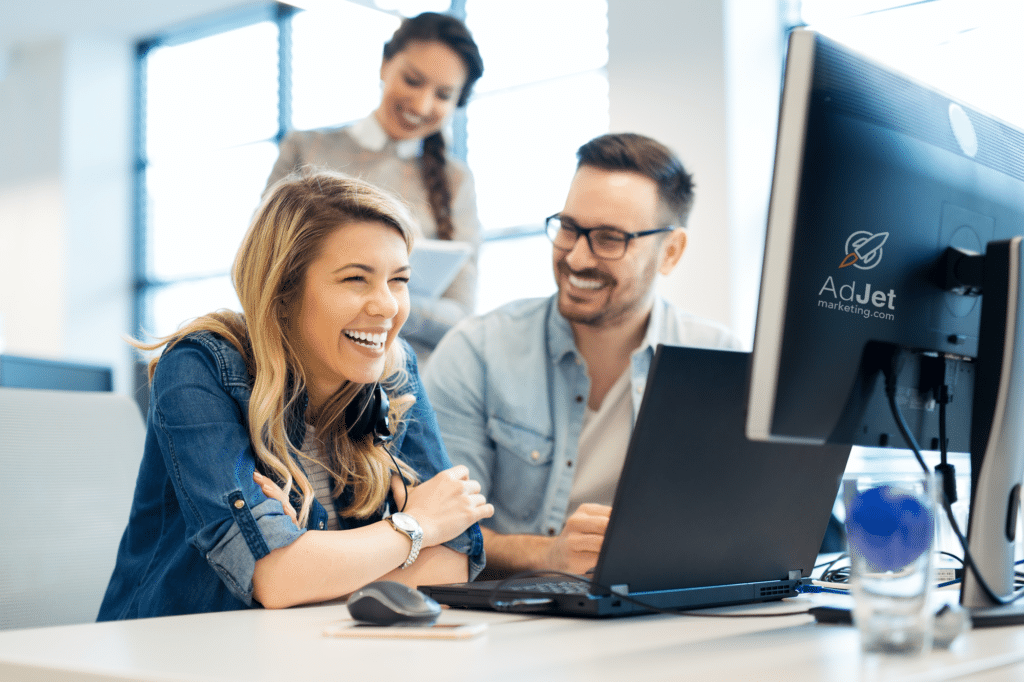 Google Analytics audit services
Traffic is coming to your website, but it's not converting. You aren't sure why. The problem could be anything from a slow page load speed to a lack of relevant content. It could even be due to a problem with your server or hosting provider. You won't know until you audit your site and identify the root cause.
An in-depth Google Analytics audit can help you identify the exact issues that are preventing visitors from taking action on your website so that you can make the changes necessary for growth.
At Adject Marketing, our team of Google Analytics-certified consultants has performed hundreds of audits for businesses just like yours. We've seen it all: from routine tracking issues to critical issues that were causing our clients to miss out on valuable revenue opportunities.
Here's what our Google Analytics experts will do for you:
Identify any issues with tracking code implementation and configuration
Troubleshoot any problems related to back-end infrastructures, such as site architecture or server configuration
Analyze traffic sources and segment users based on their behavior on your site
Pinpoint areas where users are dropping off of your site and suggest ways to improve user retention
Review your current goals and set up new ones as needed. 
Google Analytics account set-up
Our account set-up service will help you get started with Google Analytics. We'll work with you to understand your business needs and goals, and we'll use that information to create a custom solution for you and even implement it for you!
We'll design a strategy specifically for your business based on your goals and needs.
We will help you determine which reports are most important to you, and we'll configure Google Analytics so that those reports are easily accessible.
We will help you filter out irrelevant traffic so that you can focus on the data that matters to your business.
We will install Google Analytics on your website or blog (if applicable).
Google Analytics consulting services
Whether you want a complete overhaul or just some guidance on how to get more from Analytics and Google's reporting tools, we can help. We have experience providing Google Analytics consulting services for companies of all sizes and in all sectors – from e-commerce and lead generation to events and publishing.
As a leading marketing agency, we understand the importance of Google Analytics to your business. We will help you to implement advanced analytics solutions as well as help you interpret and use the data.
We do all this because we believe that number-crunching isn't enough. You have to:
Understand what the numbers are telling you
Be able to use that information to make decisions and take action.
Our Google Analytics consultants offer a range of services:
Auditing your data collection
Incorrectly implemented tracking solutions provide false insights. This can result in bad decision-making, which costs you time, money, and ultimately customers. Our team will audit your data collection to ensure it is accurate and provides the insights required by your business.
Our Google Analytics e-commerce tracking services enable you to:
Store information about individual products sold (product names, categories, price, etc.)
Track information about the buyer (city, country, etc.)
Track the sales value of individual transactions and the revenue generated by each product
Track internal site search activity on your site
Learn about the effectiveness of your marketing campaigns (What percentage of people who click on an ad make a purchase? What is my return on investment?)
Stay on top of your data with AdJet Marketing.