Google Ads Services, Professional Google Ads Marketing Agency
Are Google Ads the Right Choice For Your Business?
In the 21st century, every transaction, business, and communication is conducted through smart devices. Social media (Facebook, Instagram, YouTube, Tiktok)  plays a significant role in every individual's life, and it became one of the primary means or sources of income for millions during the Covid-19 pandemic. In an era of this cyber world, the digital marketing tide in 2023 is high due to the competition between the several online business platforms we see on the internet today.
More than hoardings and posters, digital marketing and its components have become a significant part of the business world, as advertising through the internet is the most effective means of reaching an intended audience in 2023. More than 30 percent of advertising today is done through different digital marketing methods, as it rules the world of advertising as well as the economy in every manner. 
Thus, increased competition and diverse digital marketing methods can lead to poor quality advertising as it would create confusion amongst individuals as to what to choose and what is the best strategy for the growth of their business. Reports have shown that 45 percent of organizations don't have a proper digital marketing strategy. It's not only important that your business has a strategy beyond just which channel, Facebook Ads or Google Ads Marketing. It's also paramount that you can measure each of your campaign's effectiveness.
Conundrum between SEO and PPC
Search Engine Optimization is an efficient way to bring organic traffic to your site, but it is not a strategy that can be used when your market goals have to be met in a short span of time. This is because, through an SEO campaign, it would take a minimum of 4 to 6 months to see accurate results in the form of organic traffic. 
The past few years, specifically 2017 – 2023. Google Ads have increased in popularity. This is because, in this strategy, the business or the user is completely in control of the marketing scheme. It is cost-effective and once an ad campaign is launched, positive results of the same are procured within a short duration of time. 
But the combination of both Google Ads (PPC) and SEO can aid your business in depth in regards to understanding the market structure and help your business in attracting the targeted audience in a short period.
In a Rush? Call Us Directly at 945-218-2218
What is the difference between Google Ads and PPC?
Google Ads vs PPC: Google Ads is a specific platform developed by Google that allows advertisers to display their advertisements in search results, on YouTube, and across various partner sites. PPC, or Pay-Per-Click, is a broader online advertising model where advertisers pay a fee each time their ad is clicked. While Google Ads is a PPC platform, not all PPC advertising occurs on Google Ads. There are other platforms like Bing Ads or Facebook Ads that also operate on the PPC model. In essence, Google Ads is a subset of the wider PPC advertising universe.
What is Google Ads or PPC?
The name itself gives a slight idea about this method of digital marketing. PPC is a search model that can procure instant results in terms of brand awareness and brand promotion. Thus the advertiser only pays after receiving the requisite number of views from the targeted audience based on how many times your ad receives a click-through.
Not just a random digital marketing method but a trendsetter or movement that has helped various business sectors grow. The strategic placement of of display ads makes PPC eye-catching to the intended visitors. The AdJet Marketing team has ample expertise in the industry, especially in the field of Google Ads Specialist; with our expertise and help, your business can be a market leader.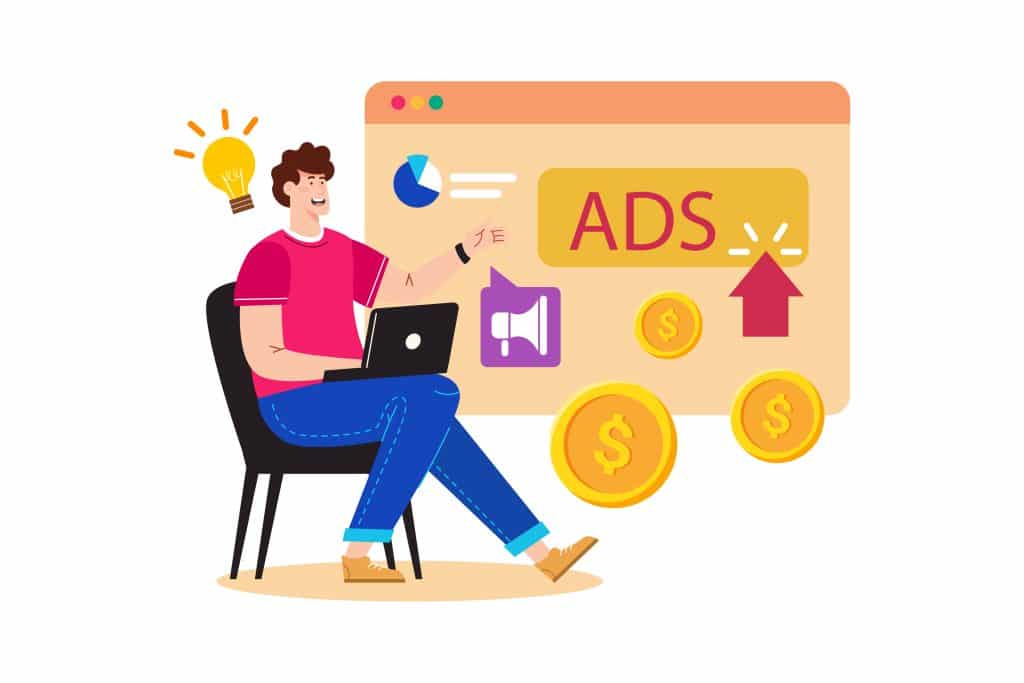 Functions of PPC marketing campaign
The backbone of paid ads is relevant keywords or phrases. PPC ads work based on the keywords frequently used by consumers. Thus to earn a prominent spot for your ad, you have to use a keyword that is relevant to the services you offer and is looked up by your target audience most frequently.
To get the customers to visit your business, you should incorporate the keywords wisely and be the highest bidder in the market. But the highest bidder is not evaluated with the amount of money you can pay.  Google Ads marketing is an automated auction where the search engines analyze your relevance and the quality score points.
Since the bid to position was removed from Google Ads mid-2019. Freelancers and agencies alike have been up in arms. Google replaced bid to position with a complex percentage based on top bottom and absolute statistics. Five years later this new format still confuses even experienced Google Ad managers. Making sure that your organization has experienced ad managers can save you a lot of money and nearly guarantee you fantastic results.
Does PPC or Google Ads work for businesses?
Google Ads is a dominant and powerful marketing tool recommended for nearly every business. PPC marketing has its own merits that make it a standout marketing procedure from other methods. It is essential to know the qualities or merits of PPC before making a top-notch ad.
SEM is part of a complete strategy that has been highly used in the past few years to increase brand visibility for various businesses. The algorithms are used in SEM in such a way that it optimizes and provides relevant answers to customers' searches according to the person's preferences and locations.
Can AdJet Marketing be your one stop solution?
To procure the best ad through the digital marketing method of Google Ads requires a lot of detailing and a systematic strategy with maximum accuracy. The team at AdJet Marketing, with a good amount of experience and high-quality professionalism, can give you the hallmark ad for setting your business at high standards.
These are certain points that help AdJet Marketing stand out from other digital marketing and advertising service providers and thus can be the solution for your conundrum of choosing between the best companies for putting out a hallmark ad for your product, goods, or services.
Pay Per Click is always a better investment for your business
Different studies and reports have shown how PPC has facilitated many people in the growth of their businesses. Pay Per Click ads have increased the traffic of a website as it has been observed over the past years that customers approach or directly enter a website by clicking these Pay Per Click ads. 
Around 70 percent of the business sector is investing in Pay Per Click ads because, in this fast-paced world where everything from morning coffee to buying a luxury apartment can be done within minutes, the business market must approach and grasp the targeted audience quickly. 
As online shoppers worldwide increase minute by minute, it simultaneously increases competition. Do not wait for a perfect moment as every fleeting moment is crucial in the digital world. AdJet Marketing can help you with the best PPC marketing strategy; if you choose to avail of our services, you can rest assured that your investment is in the right hands.